Tips for Stress-free Travel with Kids
If you're a parent, you probably really need a vacation. The problem? Family trips can be very stressful – and not so restful for Mom and Dad! At Kong Vacation Homes, we keep the comfort and safety of your entire family in mind when we design our properties. Here are some tips to help you have a great family get-away:
Plan Ahead: Make your travel arrangements well in advance. If you'll be staying at a rental vacation home, make sure to touch base with the owner to confirm your stay and to ask about child-friendly amenities, like game systems, sunrooms, and fenced backyards! Other helpful items for families to look for in a rental include a laundry, equipped kitchens, and off-street parking. If you stay in an Airbnb property, children under two years old aren't counted as guests when you're booking a reservation and don't incur any extra costs! (Helpful hint: Kong Vacation Homes offers all of this and more for comfortable family accommodations!)
Talk It Up: Involve your children in the planning and talk about the trip you'll be taking together. Look up the destination online and discuss what you'll be doing there. Going to Hallandale Beach? Read a book about beaches! Heading to an attraction in Tampa like Busch Gardens or Lowry Park Zoo? Download a map to show them the rides! This will help your kids know what to expect on your vacation – and keep them happy!
Pack Smart: Have a comprehensive packing list that includes every family member, even your pets! Check off items as you pack them and try to finish all packing the day before you leave. Let your children help choose their outfits (so you know they'll actually wear them), but make sure they are appropriate for your destination. By taking an organized approach to packing – and giving the kids a role in it – you hopefully won't overpack OR leave any necessary items behind. And don't forget the baby wipes!
Get Ready to Stroll: Get the most of vacation experience – especially if you're going to a theme park – with a stroller! Whether you choose to rent a stroller, buy an inexpensive umbrella stroller, or bring your own, strollers are handy places for kids to nap and can help keep your kids comfortable longer, so you can extend the fun! While you're on the move, strollers also can double as seating at restaurants! (And, those handles are great for carrying bags when souvenir shopping!)
Don't Get Lost: Dress your kids in bright clothing to help you pick them out in a crowd. Tuck a note with the local address and your contact information into their pockets or write their name and phone number on their arm in permanent marker. If your children are prone to wandering off, consider attaching a small GPS to their shoes or belt.
Rent Away: If you don't have room to transport all of your baby items while traveling, don't worry. Most places have local rental services that offer cribs, pack-n-plays, high chairs, and even larger toys! If you're staying with us at Kong Vacation Homes, let us know your needs when you book your house, and we can help you, too!
Keep It Fun: If you've ever been on vacation with a small child and you didn't bring toys (or if you didn't bring the right toy), you know why this item is on our list! Toys can help keep kids occupied during long car or plane rides, and they can bring a sense of familiarity to new environments. Pack a backpack for each child with plush toys, books, coloring pages, washable crayons, and games. One important tip – leave the toys with little pieces and super noisy toys at home!
Bag It Up: In case your child does get sick while traveling, keep plastic bags in a carry-on backpack or purse. Gallon-size ones are best and can serve a dozen useful purposes – plastic bags are really helpful to separate kids' outfits and to organize toys when packing! Also, make sure to bring spare sets of clothing in your carry-on for each of the kids…and Mom and Dad! In case of sickness, spills, or potty accidents, you'll be covered. This is also when it's good to have a washer and dryer waiting at your rental home!
Take a Potty Break: If you have a toddler who's learning to potty, bring an inflatable or portable potty with you on your trip. Unfamiliar bathrooms may be scary, and sometimes potty breaks happen at inconvenient times – like between exits on a long car drive! For long plane rides, consider having your child wear pull-ups to avoid accidents.
Childproof First: When you arrive at your rental home, make sure to childproof each room. You can find parents' safety starter kits in retail stores and online that include the essentials, like outlet covers, a toilet lock, corner protectors, and cabinet locks. Duct tape makes a good temporary lock in a pinch! Also, make sure you've talked with the property owner about your childproofing needs!
Snack Time: Pack travel friendly food for your trip, such as applesauce pouches, dried and fresh fruit, popcorn, trail mix, whole-grain crackers, 100-percent fruit or vegetable juice, and water. During your vacation, try to stick as closely to your normal eating schedule as possible. Children love dependable routines, and nothing is less fun than a cranky kid! All Kong Vacation Homes feature full kitchens, so you can keep your family's favorite foods on hand. When you're out and about, make sure to bring ample water and encourage frequent sipping!
Fence Me In: If you're planning to stay at a place with a pool, make sure there's a safety fence around it. Make sure to monitor your children while they splash and play, then enjoy the peace of mind knowing they will be safe when pool time is over. Also, if you are traveling with pets, look for accommodations with a fenced back yard. Kong Vacation Homes is very pet-friendly, with special amenities just for your dog or cat, too!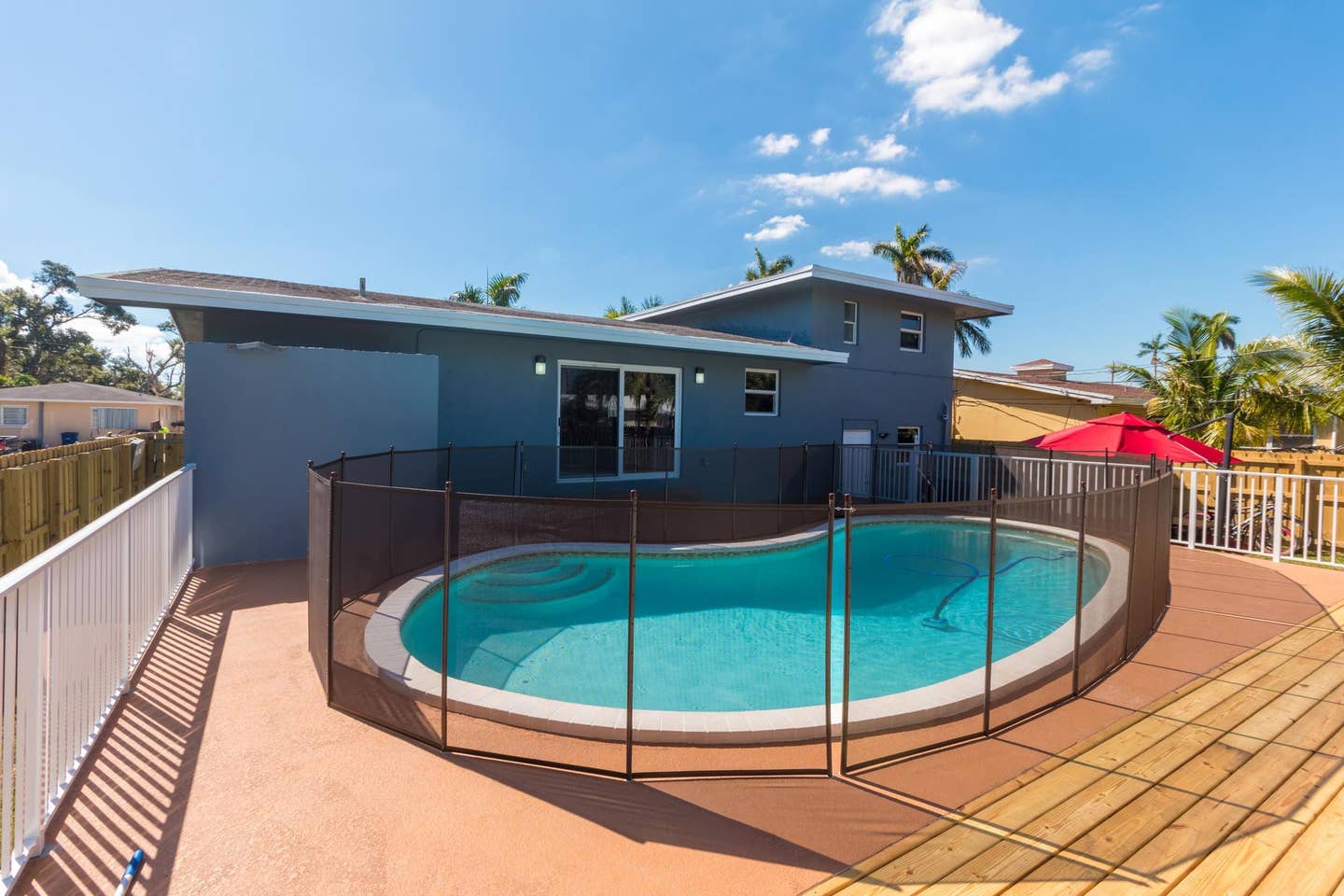 Be Flexible: No matter what great activities you've planned for your family vacation, always remember to be flexible! Things won't always go as expected, kids will be kids, and everything will take longer than you thought. All of that is okay! Remember that the goal of this trip is for your family to take a break from daily life and to relax together. A happy family is the best sight you'll see!
We hope these tips will help take the stress out of traveling with your kids. A little planning will make your trip easier and more fun for everyone. And, your family will always have the great memories of your time together exploring a new place! Just remember, you can always come home to Kong Vacation Homes if you're traveling to Hallandale Beach or Tampa. We promise we'll treat you just like family. Call us at 866-499-9026 or visit us at www.kongmg.com to find out more about our available vacation properties.