No one wants their home to be a target for a break in. But did you know that a typical burglar will only spend 60 seconds attempting to break into your home? That's why it's so important to take steps to protect your home and family!
As a premier property manager in the Tampa Bay and Hallandale Beach, home safety and security are Kong Management Group's top priorities. Whether you live in a single-family home, a multi-family community, or a recreational vehicle (RV) / mobile home park, we have some tips to keep your home secure!
Fencing
A strong fence can help to deter intruders from your property. The more difficult the fence is to climb or break, the better it is to prevent theft. Your fence should be tall enough that someone wouldn't attempt to climb it, and gates should include a self-closing lock or latch that cannot be accessed by the outside.
Fencing not only enhances security, it also increases privacy and offers your home extra protection from the elements. In addition to that, fenced yards are also very pet-friendly!
We're proud to offer many rental properties at Kong Vacation Homes that include fenced yards among other amenities.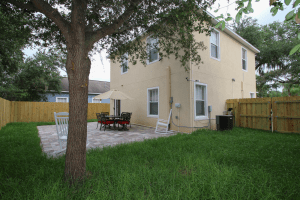 Security System
An alarm system is another great deterrent for criminals. Statistics show that homes that do not have security systems are approximately three time more likely to be burglarized.
That's why all Kong Vacation Homes feature Vivint Smart Home Security Systems. The system consists of a control panel with a state-of-the-art color touchscreen, wireless security sensors that provide home security protection, and optional peripheral network devices, such as door locks, video cameras, thermostats, and outlet modules, for added safety.
In addition to the alarm, Kong Management Group also recommends displaying signs in your yard or stickers in your windows with the name of the security company (Vivint, in our case!). It's also a good idea to make sure security cameras are visible to would-be burglars. If thieves see these indicators of a security system, they will likely move on to an easier target.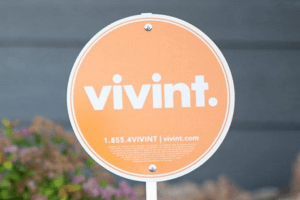 Even if your rental home doesn't have a security system, you can easily create the appearance of one. Did you know that you can purchases fake cameras and signs for under $20.00 total? You can also post neighborhood watch signs on your property. If you make it look like your home is monitored, it's less likely it will be targeted.
Locks
All exterior doors in your home should be fitted with deadbolts – and that includes mobile home units. Many mobile homes only have knob locks, which can be easily broken. At Kong Management Group, we believe that the security benefits of deadbolts are well worth the added expense of installation – your peace of mind is essential to us!
But, it's important to note that a deadbolt connected to a weak doorframe will not provide the maximum protection for your home. Door frames (and window frames for that matter) should have a solid construction, too!
Also, door and window jammers are useful tools that you can use to protect your home, adding strength to your homes' perimeter without breaking the bank. Much like deadbolts, they work to prevent your door or window from being opened from the outside.
Additional Measures
A fireproof safe is a safer place to store your important papers and valuables. Install your safe in a low-traffic part of the house, like a guest bedroom closet. In addition to making sure your safe is has a secure lock, also consider the size of your safe. The larger it is, the harder it will be to remove from your home!
The way you light your home also can enhance security. Add timers to your lights and program them to turn on at set times, giving the illusion that someone is at home – even when you're not. Also consider motion-sensor lighting around your home! All Kong Vacation Homes are smart homes, which includes automated lighting!
At our RV / mobile home parks in Zephyrhills, Kong Management Group worked hand-in-hand with the city and local utility company to install security lighting throughout the properties for enhanced resident safety.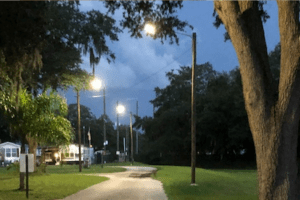 We also encourage neighborhood watch programs at all of our properties and recommend that all of our residents participate when possible. If you don't already have a neighborhood watch, talk to your neighbors about forming one.  By watching out for each other, you'll not only deter crime but create a stronger community – and we think that's a win-win!
The safety and security of your home and family is important to us! Kong Management Group is family-owned and operated, managing a portfolio of properties in Hillsborough County (Tampa Bay), Pasco County (Zephyrhills and Wesley Chapel), and Broward County (Hallandale Beach). When you rent with us, you can be sure your unit will be safe, secure, and clean! For more information about our available rental homes, contact us at 866-499-9026 or info@kongmg.com.