Have Fun in the Sun During Your July 4th Vacation!
Heading to Tampa Bay or Hallandale Beach for the 4th of July holiday? We want to make sure you have a blast (but safely, of course)! Whether you're planning an Independence Day cook out or a day by the pool, it's important to stay safe. Here are some tips from Kong Vacation Homes to keep your vacation fun, safe, and stress-free:
Protect Your Skin
If you're headed outside, make sure you're protecting your skin from the sun. Make sure to apply sunscreen to all areas of exposed skin every two hours and again after swimming or sweating. Use a sunscreen that protects against UVB and UVA rays – at least SPF 15 for adults and SPF 30 or higher for kids! Also, look for swimsuits and clothes with an ultraviolet protection factor (UPF) rating, which also can help protect you from the sun's rays!
Stay Hydrated
It's easy to get dehydrated in the hot, Florida sun. Here's the hydration rule of thumb: make sure you and your kids are drinking water regularly throughout the day (and not just when you feel thirsty)! The general guideline is to drink eight glasses of 8 ounces of water a day – and always drink before, during, and after any physical activity. Try to limit alcohol and caffeinated drinks, which are dehydrating.
Keep It Cool
The Sunshine State offers a wide variety of incredible outdoor activities, but the heat and humidity in the summer months can place stress on your body. But there are some simple steps you can take to avoid a heat-related illness. Drinking cold beverages and eating smaller, cold meals, such as salads and fruit, can help, along with limiting time in the sun and wearing light-colored, loose-fitting clothing. Try to limit sun exposure between the peak intensity hours of 10 AM and 4 PM and avoid strenuous exercise during that time, too. And, remember, NEVER leave children or pets unattended in the car – temperatures in vehicles escalate very quickly and can reach deadly temperatures in minutes.
Be Water Smart
If you are near a pool or open water, always keep your eyes on the kids! Teach your children to stay in areas designated for safe swimming and to always swim with a buddy – NEVER ALONE! When swimming or poolside, the kids should be under constant adult supervision, and they should be wearing proper flotation devices. Remember, water is only a safe place when we respect the rules!
Buggin' Out
If you're going on a hike or plan to spend time near open water, especially standing water, protect yourself against mosquitos and other pests with bug repellents. Also, if you see a wasp or hornet nest, make sure to avoid it!
Stay In Contact
If you're vacationing in a new area, it's always fun to explore. And, if you're out at night in a large crowd – like at a fireworks celebration – it's easy to get lost or lose your group. Make sure someone knows where you are, have a way to stay in contact, and plan in advance a time and place for your group to meet up.
BBQ 101
If you're firing up the grill for a BBQ, make sure to follow these grilling safety rules. Make sure your grill is out in the open, away from the home, deck, tree branches, shrubs, or anything else that could catch fire. Never grill indoors, and make sure that everyone – especially children and pets – stays away from the grill. If the grill is in use, make sure to supervise it and use the appropriate long-handled tools. And, if you've already ignited the coals, don't add charcoal starter fluid!
Speaking of Fire
Fireworks are synonymous with 4th of July! But, if you're staying at a vacation rental home, it's not a great idea to light your own. There are rules relating to fireworks, and you wouldn't want to risk damage to the home (and the added expense that will come with that). Leave the fireworks displays to the professionals! The good news is that there are some amazing 4th of July pyrotechnics to see near the Kong Vacation Homes properties!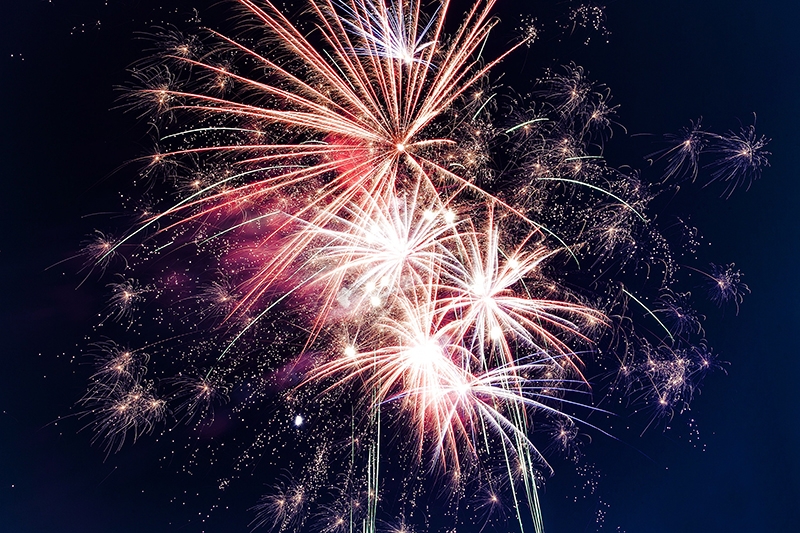 If you're staying in Tampa, the city is hosting Boom by the Bay, a brand new 4th of July celebration featuring free family-friendly activities, live entertainment, and FOUR firework displays Tampa's waterfront. This star-spangled extravaganza is sure to spark a new tradition in Tampa!
If you'd like your fireworks a little wilder, Busch Gardens Tampa Bay is celebrating the 4th of July with an extended firework show accompanied by a patriotic medley and thrill rides at night! There will be music and dancing, special Summer Nights cuisine to try, and Florida's tallest launch coaster, Tigris, to experience!
If you're headed to South Florida, Kong Vacation Homes' Hallandale Beach properties are the perfect place to stay while celebrating Freedom Fest at Gulfstream! This event features live racing, family activities, giveaways, and fireworks at 9 p.m. from the Grand Stand.
With a little planning, you can celebrate your independence from stress this 4th of July and enjoy all the fun your summer vacation has to offer! Kong Vacation Homes is where you can vacation to the fullest! Book online at www.kongvacationhomes.com!